How to Get to San Blas?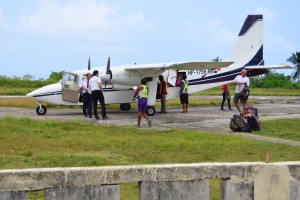 We recommend you flying to San Blas. Our fleet is located at the eastern side of this archipelago. To arrive this place it is necessary to flight straight to Corazon de Jesus Island. Flying to San Blas is more comfortable and faster than any other way to get there. From Panama City the flight takes 35 minutes versus 3 hour the road. The views are amazing, just imagine 365 island at your feet.
Flight in Style
Tired of crowded airports or uncomfortable itineraries? San Blas Sailing can also help you renting a plane or helicopter from almost anywhere (within Panama) at your schedule and without delays.
Drive to Carti, San Blas
Even if the new road is totally paved, the hills are though requiring a lot of traction on each wheel, the car must be 4X4 or 4X2.  From Panama City to San Blas it takes approximately 2.5 hours.
Make sure you have confirmed with a San Blas Sailing Adviser on which pier you are embarking (San Blas has 3 piers).
From Panama City take the Corredor Sur as if you are going to the Tocumen International Airport, but instead of entering the airport continue straight until you exit the Corredor Sur.
Follow by the exit of the Corredor Sur you will see the towns of 24 de Diciembre (+20 minutes), Pacora (+30 minutes) and finally Chepo (+20 minutes) .
After the town of Chepo there is an AB gas station at your right hand (continue straight), and just 10 minutes after that gas station you will see the entrance of San Blas at your left hand, turn to the left (this part has no deviations).
After 1 hour you will reach the first of 2 checkpoints, where you will pay The Kuna Entrance Tax, $10 per person. 10 minutes later you will reach the second checkpoint, where everyone will be asked for the passport.
You have reached San Blas