Sailing Yacht Charters in Panama's San Blas since 1999
But also an on site receptive service
Don't risk your holiday budget in unknown hands with merchant web sites without legal status nor offices in Panama that could disappear overnight or that often offer sailboats without any insurance.
Featured Yachts
Panamanian Tourism Board registered company
English-speaking sales staff
No hidden costs: all-inclusive formula
On-site assistance 24/7
Visa & Master cards / cryptocurrencies

Enjoy the exquisite anchorages of Cayos Holandeses or Coco Banderos.
2 - 21 days
The shared San Blas catamaran cruise with the best privacy (double cabin with en-suite bathroom) and a Native Guna crew.
3 - 6 days
Discover San Blas, the Caribbean coast of Panama with its historical sites and the Panama Canal.
12 days
Our star package. Take advantage of our extraordinary prices on an 8-day package.
8 days
Embark on a comfortable all-inclusive adventure on the VIP ONE Catamaran - Lagoon 500.
7 days
The perfect all-inclusive honeymoon getaway. Eat, sail and love!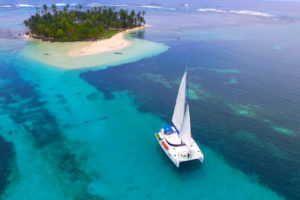 7 days
We also encourage SUSTAINABLE TOURISM by training and employing NATIVE GUNA captains, first mates and hostesses in conformity with the wish of the local Guna authorities.
---
---
The Lost Archipelago of the Guna people
Sailboat rentals with crew in San Blas (Guna Yala), Panama since 1997. Our packages offer more activities than any beach resort. Whether you are on your honeymoon, traveling with friends or on your family vacation, our all-inclusive packages will transform your plans into a relaxing, yet exciting trip through one of the most beautiful archipelagos on the planet.