TI KAY Nautitech 40
For Rent crewed sailboat Catamaran TI KAY - Nautitech 40 in the San Blas Islands, Panama. From just $850 with meals and beverages included from 1 to 7 guests.
Rates per Day
Boat price $500 $175
| | |
| --- | --- |
| 2 | $850 |
| 3 | $1,025 |
| 4 | $1,200 |
| 5 | $1,375 |
| 6 | $1,550 |
| 7 | $1,725 |
Technical Details
| | |
| --- | --- |
| Type | Catamaran |
| Length | 40 feet |
| Shipyard | Nautitech Catamarans |
| Year | 2002 |
| Country | France |
| Guests | 7 |
| Accommodations | 1 single, 3 double |
| Air Conditioning | No |
| Kayaks | 1 |
Layout
Welcome to Ti Kay! A beautiful 40 foot Nautitech catamaran, built in France.
Comfortable, light and spacious are the main characteristics of the Ti Kay. Perfect for families and friends, the guest accommodation consists of 3 double cabins (6 guests) + 1 single cabin that is generally used for young children or teenagers.
Perfectly maintained, with all kinds of safety equipment, comfortable, impeccably clean, it has a large covered area at the stern and a new trampoline at the bow, ideal for sailing suspended in the crystalline sea of San Blas.
Interior:
The Ti Kay has 3 matrimonial double cabins, 1 single cabin, with fans and reading lights, 2 bathrooms. Capacity for up to 7 people. Living room and kitchen with 2 refrigerators. Varied musical selection, USB chargers, 110 / 220v electricity.
We offer our guests: sheets, bath towels, shampoo, conditioner, bath gel, soap and hand towel.
Here the commitment is to arrive and… relax, we take care of all the rest!
Crew:
Adriana, Brazilian, is the Ti Kay cook. She has studied and worked in restaurants in Italy, and takes care of the well-being of our guests on board in all aspects.
Eduardo, Spanish, is the captain of the Ti Kay. With extensive experience in the Mediterranean and Atlantic he has been sailing in San Blas for 10 years. A diver and fisherman, Edu also takes care of revealing the secret world below the surface.
They both speak correctly: Spanish, English, Italian, Portuguese and an acceptable French.
Food & beverage:
Breakfast: coffee, tea, milk, natural fruit juice, cereals, eggs, ham and cheese, honey, butter, Nutella, jam, fruits and hot bread, we are sure it will please all palates.
Seafood dishes, Mediterranean and tropical cuisine, lobsters, octopus, spider crabs and very fresh fish are part of our menu. Adri's kitchen will surprise you !!
We offer Chilean, Argentine and Spanish, white and red wines, Ron Abuelo, in cocktails, natural juices and creative infusions.
Activities: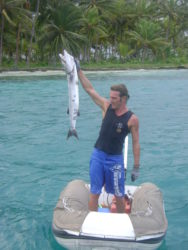 Navigating San Blas on a catamaran is a real pleasure. The Ti Kay is very comfortable and fishing is an everyday activity.
Once anchored, Captain Edu will take you to know, beaches, deserted islands and dive through untouched reefs.
Fins, masks, snorkels, life vest, float rackets will be available.
The 3-seater kayak is ideal for walking in our calm waters …
Backgammon, cards, chips, domino and other board games.
It is essential to read what our guests talk about their days at Ti Kay!
An experience for a lifetime!

Globo Repórter – Brazil (June 2014)
Reviews & Publications
Pauline Murphy (August 9th to 12th, 2022)

Florence Demouliere (Août 5 au 8, 2022)

Bonjour Sayra et Sebastian,
Un grand merci à vous pour les moments exceptionnels que vous nous avez fait vivre à bord. Nous avons vraiment apprécié votre professionnalisme, votre gentillesse, vos attentions et vous avez su trouver un rythme qui nous convenait parfaitement.
Les petits plats préparés par Sayra à partir de poissons frais étaient sublimes et les parties de pêche avec Sebastian inoubliables !
Vous nous avez emmenés sur des spots de snorkelling réellement magnifiques et à la hauteur de nos attentes.
Merci également de nous avoir permis de découvrir la population Guna qui vit sur cet archipel.
Nous garderons de merveilleux souvenirs de cette première expérience de croisière 🙂
Bon vent à tous les deux.
Jean-Étienne, Florence, Lisa et Quentin.

Brooke Carleton (July 25th to 29th, 2022)

Sean Mc Ginley & Friends (June 15 to 20, 2022)

Corine Mennuci (Juillet 14 au 18, 2022)

Hello Sayra et Sebastian
Nous revenons enchanté de notre séjour dans l archipel de San Blas et vous remercions de nous avoir fait découvert ce petit coin de paradis. Nous avons apprécié votre professionnalisme, votre gentillesse et votre discrétion. Nous n oublierons pas la cuisine de Sayra, délicieuse et créative.
Bon vent à tous les deux.
Amitiés
Corine, Patrick et Ugo

Chers Adri et Edu

Nous espérons que vous allez bien! Où vous soyez, au Panama, Italie ou Espagne l'épidémie fait démonstration de force, donc nous pensons à vous, et espérons que vous êtes à l'abri. Nous, quand c'est difficile, rêvons à nos jours sur le bateau avec vous, à nos plus belles vacances de notre vie. Merci encore et prenez soin de vous, bises, Erika et Zsolt les Hongrois de Genève ❤️

Reviews 2019

Rosana Viejo

5 estella

Hace más de una semana nos despedimos de el gran capitán Edu y de la verdadera jefa del barco, Adri. Navegar por San Blas con ellos le hace a uno sentirse libre y ligero. Una experiencia más que recomendable. No sabéis cómo se os echa de menos aquí en el asfalto…besos grandes y mil gracias por todo.

TD Smyers

Our short voyage in the San Blas Islands was made unbelievably beautiful by our hosts Captain Eduardo and Adriana. They … are wonderful people and masters of hospitality. To experience these islands and the Kuna people in a personally moving way that leaves a lifetime of rich memories (while enjoying PHENOMENAL cuisine), make haste to book a sail on Ti Kay! are wonderful people and masters of hospitality. To experience these islands and the Kuna people in a personally moving way that leaves a lifetime of rich memories (while enjoying PHENOMENAL cuisine), make haste to book a sail on Ti Kay! are wonderful people and masters of hospitality. To experience these islands and the Kuna people in a personally moving way that leaves a lifetime of rich memories (while enjoying PHENOMENAL cuisine), make haste to book a sail on Ti Kay!are wonderful people and masters of hospitality. To experience these islands and the Kuna people in a personally moving way that leaves a lifetime of rich memories (while enjoying PHENOMENAL cuisine), make haste to book a sail on Ti Kay!

They are wonderful people and masters of hospitality. To experience these islands and the Kuna people in a personally moving way that leaves a lifetime of rich memories (while enjoying PHENOMENAL cuisine), make haste to book a sail on Ti Kay!

Trake Ezcaray‎ 

Muchas gracias Edu y Adriana por esta semanita que se nos va a hacer inolvidable. Que bien lo hemos pasado y que bien hemos comido. Para muestra, un boton… o un foton 😉

Cyril-Paul Casanova 

8 de janeiro de 2016 · Cidade do Panamá ·

Un très très grand merci pour l'accueil , votre gentillesses n'a d'égale que votre sourire! Nous avons passé quelques jours grâce à vous fabuleux..

Jeanine Denis Renaldo‎ 

Honneur, respect et un immense merci à tous les deux !

Adri et ses linguines aux langoustes … dé..li..ci..euses ! Une cuisinière hors pair !

Adriana et Eduardo,
Cette semaine de croisière aux San Blas demeurera pour nous un souvenir inoubliable.
Avec votre catamaran Tikay, si remarquablement entretenu, vous nous avez fait découvrir les merveilles de ces îles, la spontanéité des échanges avec les Kunas et les joies d'une vie simple proche de la nature.
Adrianna nous a régalé de ses préparations unissant parfaitement les produits de la mer, les légumes et les fruits locaux, avec le tour de main digne des grands chefs.
Eduardo nous a fait voyager en toute sécurité, nous permettant de profiter au maximum des lieux de baignade, de découverte sous-marine et de pratique du kayak.
Votre couple sait nous mettre à l'aise et anticiper nos moindres désirs.
Vous formez un couple si complémentaire !
Les échanges que nous avons eus restent dans nos cœurs.
Nous vous remercions pour tous ces agréables moments passés ensemble.

Janine et Denis
Martine et Alain

Patricia Scholtissek‎ 

Adriana é a melhor cozinheira do arquipélago!!!! Passamos 3 dias maravilhosos com Adri e Edu em San Blas Obrigada.

Perla Graglia Baute‎ 

5 de agosto de 2017 · Santa Clara, Coclé ·

Hermoso lugar. Y hermoso viaje. El catamarán impecable. La comida exquisita y la atención muy buena. Recomendable 100%…Gracias Adriana y Eduardo

Antoine Garric  

We had an incredible cruise with a such a truely nice, friendly and caring équipage !!!
My best holidays ever.
Lovely spots, super great food. Just paradise.
Alix et Antoine

Jeanine Denis Renaldo 

18 de fevereiro de 2017 ·  – 5 estrela

Cette croisière fut pour nous inoubliable. Une semaine de pur bonheur ! Adri et Edu restent nos cœurs !

Harreson R Mayers  

Eduardo & Adriana are awesome…great food, day-trips, fun, fun, fun…plus relaxing, clean boat & very comfortable. They always made sure we had everything we needed. What a beautiful place the San Blas islands w/ caring/loving people.

Shirah Umansky

Amazing! Eduardo and Adriana are the best! They showed us some amazing beaches and snorkeling. The absolute best part was the way they are with the kids! Our kids (6 and 4) will forever remember this trip and be changed forever. And when the kids went to bed, we had a blast "adulting" with them!! Highly recommend!

Elisabeth Martini Daube  

9 de dezembro de 2017 · – 5 estrela

Merveilleuse croisière avec notre super capitaine Eduardo qui a péché le plus beau Baracuda de toute la mer des Caraïbes et notre merveilleuse cuisinière Adriana
Oï Adriana eu estou fazendo a sua receita de courge com camaroes mais nao vai ser tao boa combo a sua
Béions

Doris Beckmann

14 de janeiro de 2018 · – 5 estrela

Sunshine, incredible Caribbean islands, well preserved by indigenous people, beautiful under-water scenery, peacefulness and amazing hospitality!

Sailing San Blas with Eduardo and Adriana on their Catamara Boat has been a unique lifetime experience.

We discoverd the beauty of the San Blas islands and the kindness of the Guna people. Eduardo and Adriana are the best hosts you can ever imagine. They let you feel safe & home on their boat, welcome you like friends, take you to the most amazing spots and create 5star-food. I spent one of my best holidays ever with them. There is no better way of enjoying the Caribbean – thank you from the bottom of my heart, Edu & Adri!

Laetitia Vecchierini 

We had a wonderful one week experience on the tikay! Eduardo and Adriana will show you the best of San Blas (beautiful islands, sharks, tortules, etc.), and make you best food ever !
They love people, sea, and will share their incredible life with you !

Math De De Bitter

We have a great time on the San Blas Islands on the catamaran from Eduardo and Ariana. What a nice couple, the do everything for you so that you have a nice trip. They serve delicious food, good drinks, and they bring you to the nices islands. Eduardo, Adriana, we love you and hope we see eachother in june / july.

Saul Fuks

Viajar con el capitan y la tripulante chefa es lo mejor que te puede pasar en la vida.

Lisette Cozijnsen

First of all San Blas is a great place and Adriana en Eduardo made our visit here one we will never forget! They are sublime hosts who know when to let you relax and when it is time for nice and interesting conversations. The food that Adriana serves is delicious! And the Ti Kay is a comfortable and wel maintained catamaran. During the three days we spent we have experienced a nice balance between sailing, snorkeling, visiting the islands and relaxing.

Erika Molnar

Nous avons passé quatre jours inoubliables sur TIKAY. Adri et Edu sont des personnes authentiques et chaleureux, le catamaran super et les repas délicieux. La beauté du paysage et les belles surprises de la mer, des gunas, la pêche nous ont offert la douceur de vivre pendant ce temps, hélas trop court. Merci Adri et Edu

Ann Trunko

We had the best time on our trip!  Eduardo and Adriana were the most amazing hosts!!  They really made our trip perfect – their knowledge of the area, the unbelievable food, and the great company.

Sylvia Johansson – Abril 2019

Quería escribirles unas líneas para agradecerles la organización de nuestro viaje a Panamá. Todo fue muy bien, hemos disfrutado un montón y nos ha encantado visitar vuestro maravilloso país.

El único pequeño inconveniente fueron los insectos. (Sandflies)

Por lo demás, como te comentaba al principio de mi email, todo ha ido muy bien y hemos estado muy a gusto con el programa que nos organizasteis y las personas que nos han atendido durante el viaje. Muchas gracias y esperamos poder volver de nuevo!

David Kemp family – Ti kay – March 2019

We spent 3 days sailing aboard the Ti Kay in San Blas off the coast of Panama in March 2019. We are a family of 5 from Minnesota with kids ages 19, 15 and 11. This was our first time ever booking a sailing charter. The experience exceeded our expectations in every way.

Firstly, the San Blas island themselves are truly spectacular. There are beautiful virgin beaches, turquoise waters, marine life, and endless coral reefs to explore. The Ti Kay is modern, nicely appointed 40 foot catamaran that has been meticulously maintained.

Captain Eduardo and his wife Adrianna were are hosts and really made our experience extra special. Adrianna is a Milan trained cook and prepared truly gourmet meals for us while accommodating very strict dietary requests due to allergies. Eduardo took us to beautiful islands and coral reefs. And when he wasn't navigating, Eduardo took extra care and patience with our family, teaching us about snorkeling, sailing and life on the seas. Eduardo and Adrianna's hospitality was exceptionally warm and gracious, and our family thoroughly enjoyed our time with them. Until next time!!

David Kemp

Elisabeth Martini Daube

Merveilleuse croisière avec notre super capitaine Eduardo qui a péché le plus beau Baracuda de toute la mer des Caraïbes et notre merveilleuse cuisinière Adriana
Oï Adriana eu estou fazendo a sua receita de courge com camaroes mais nao vai ser tao boa combo a sua
Béions

Rosana Viejo – Abril 2017

Hace más de una semana nos despedimos de el gran capitán Edu y de la verdadera jefa del barco, Adri. Navegar por San Blas con ellos le hace a uno sentirse libre y ligero. Una experiencia más que recomendable. No sabéis cómo se os echa de menos aquí en el asfalto…besos grandes y mil gracias por todo.

TD Smyers

Our short voyage in the San Blas Islands was made unbelievably beautiful by our hosts Captain Eduardo and Adriana. They are wonderful people and masters of hospitality. To experience these islands and the Kuna people in a personally moving way that leaves a lifetime of rich memories (while enjoying PHENOMENAL cuisine), make haste to book a sail on Ti Kay!

Thais Laespada

Una experiencia increible¡ san Blas es un sitio único, y la estancia en el Tikai es un lujo. Edu te guia, te explica… una gozada.. y adri, que voy a decir de la cocina de Adri… madre mia.. hay que probarla.. única¡ los desayunos, las comidas y las cenas son una maravilla¡ Son unas vacaciones para recomendar sin ninguna duda!!!

Doris Beckmann / January 2018

Sunshine, incredible Caribbean islands, well preserved by indigenous people, beautiful under-water scenery, peacefulness and amazing hospitality!

Sailing San Blas with Eduardo and Adriana on their Catamara Boat has been a unique lifetime experience.

We discoverd the beauty of the San Blas islands and the kindness of the Guna people. Eduardo and Adriana are the best hosts you can ever imagine. They let you feel safe & home on their boat, welcome you like friends, take you to the most amazing spots and create 5star-food. I spent one of my best holidays ever with them. There is no better way of enjoying the Caribbean – thank you from the bottom of my heart, Edu & Adri!

Ti Kay ∼ Un Acto de Vida, Un Privilegio

María y Jorge Elfman  ∼ 09/2017

Final de nuestro viaje…..Conclusiones:

Entorno llamativamente virgen.  Maravilloso escenario que naturalmente incorporamos desde de la confortable platea del Ti Kay.

Adriana y Eduardo, sus tripulantes, naturales como el entorno.  Ideas, pasiones, contradicciones y esperanzas compartidos y debatidos.  Diversidad, mundo interior y mirada finita, todos enredados en sentimientos básicos, sin ropajes, inherentes a nuestra condición de humanos.  Pasiones así presentadas potenciaron entorno y vivencia.

Un acto de vida. Un privilegio.

Denis Renaldo – Febrero 2017

Bien chers Adrianna et Eduardo,

Cette semaine de croisière aux San Blas demeurera pour nous un souvenir inoubliable.

Avec votre catamaran Tikay, si remarquablement entretenu, vous nous avez fait découvrir les merveilles de ces îles, la spontanéité des échanges avec les Kunas et les joies d'une vie simple proche de la nature.

Adrianna nous a régalé de ses préparations unissant parfaitement les produits de la mer, les légumes et les fruits locaux, avec le tour de main digne des grands chefs. Eduardo nous a fait voyager en toute sécurité, nous permettant deprofiter au maximum des lieux de baignade, de découverte sous-marine et de pratique du kayak.

Votre couple sait nous mettre à l'aise et anticiper nos moindres désirs. Vous formez un couple si complémentaire !

Les échanges que nous avons eu restent dans nos cœurs. Nous vous remercions pour tous ces agréables moments passés ensemble.

Bien sincèrement,

Janine et Denis Renaldo – Martine et Alain Ponsich

James – April 2015

Dear Melody, Bernard, Adri and Edu,

As I sit preparing for the up and coming safari season, my mind keeps reflecting back to the amazing journey with my three daughters with Eduardo and Adriana, through the San Blas Islands on Ti Kay. What a hidden jewel you have tucked away there. Nobody I talked to on my travels through the US were aware of their existence, which makes it an even more exciting destination.

Those coconut palm fringed islands have to be some of the most beautiful and picturesque on this earth. With so many undamaged coral reefs to explore, with such a diversity of fish life, including many different shark species, which is a great indicator of a healthy ecosystem, as they have been decimated in many other parts of the world. Eduardo's extraordinary knowledge of the reefs and currents allowing us to snorkel with the currents along reefs so rich in life, or to follow him as he went out over the reef to look for fresh dinner, was such a learning experience for all of us.

lobster cooked by Adri in every conceivable way cannot be too bad a life!

Turning fresh caught fish into the most delicious meals that even Isabella, known to only like pasta in her former life loved every meal. Now I will have to pay for the most exotic tastes acquired on the boat for the rest of my life!

The years spent by Adri and Edu not only have given them an incredible knowledge to steer us through this maze of tricky reefs, which are not easy, but what a way they have with all the wonderful Huna indians living on the islands. They have a fascinating gentle way of life, that was opened up to us by a rapport that could only have developed over the years spent in the area.

It is really hard to explain to anyone that has not experienced your San Blas just how much we all as individuals took away with us. For that thank you all for the most wonderful family experience.

Salaams and welcome to my home in Kenya anytime to return the hospitality,

James

Elvira y Alex

Hola Adriana y Edu,

Ya estamos de vuelta a la vida rutinaria de empresa!!! 🙂

Muchas gracias por todo, nos encanto la experiencia y conoceros. Echaremos de menos las playas, los paisajes preciosos, la desconexión total y por supuesto la comida 😉

Un abrazo y esperamos dar otro saltito mientras estamos en Colombia!

Sandra, Jordi, Alex y Nina – Marzo 2015

Muchas gracias por vuestras atenciones estos días. Lo hemos pasado fantastico y ha sido toda una experiencia para la familia entera. Un fuerte abrazo ya hasta pronto.

Beth Nagalsk