8 days "Sail & Visit" package 8 days
8 days / 7 nights:
6 days shared catamaran sailing cruise 
Guided Historic Colonial Quarter visit

R/T flight Panama City – San Blas
Full receptive service: airport pick up, hotel ***, & transfers
From 2,573 USD

per person all included (Double Occupancy) 
Day 1: Arrival
Arrival in Panama City: you'll be escorted from the int'l airport to a elected *** Hotel (standard room) located in the modern city center with several restaurants nearby (consult us if you prefer – with a little extra – be in hosted in the old colonial quarter).
Day 2: San Blas Islands
7:00 am – Pick up at your hotel and 30 mn drive transfer to the domestic airport, private area
08:00 am – Shared private flight to san blas (45 mn of a gorgeous flight)
Welcoming by your crew aboard the catamaran. The cruise can then start.
First day of san blas sailing cruise.
Days 3-7: San Blas Islands
In an all-inclusive cruise, our shared catamaran will take you to the most isolated islands, remote indigenous villages, best snorkeling spots and the most beautiful islands of the archipelago. Native Guna crew speaking Spanish and …Guna!
Day 8: Full Day City and Canal Tour & Transfer Out
8:00AM – Pick up at the Hotel and ride to the most attractive and interesting sites of the Capital City, including the remains of Old Panama City ('Panama la Vieja'), which were sacked by pirate Henry Morgan in 1671. Continue to the Colonial City or "Casco Viejo", built in 1673, with special Spanish architecture, and where French workers, led by Ferdinand de Lesseps that initiated the project of the Panama Canal, had their homes. You will pass through the stretched streets, plazas and public parks, where part of Panama's history is still preserved, along with France Plaza, Promenade of "Las Bovedas", San Jose Church with its wonderful Gold Altar, the "Arco Chato", and Cathedral Church, forming part of the World Heritage.
When lunchtime approaches, enjoy a delicious lunch at a restaurant located in "Casco Viejo". After lunch, you will head to the Visitors Center of Miraflores Locks in the Panama Canal, where vessels are raised or lowered from ocean to lake level and vice-versa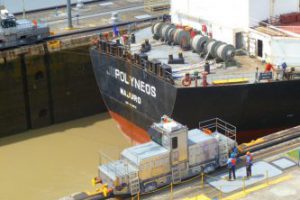 Watch the audiovisual presentation prepared by the Panama Canal Commission, where the operation of this important Inter-oceanic waterway is properly explained in every detail and its magnificent four floors museum. You will be taken to the Amador Causeway, a man-made connection of three islands, with a strong tourist development and from where you will have a breathtaking view of the city and have time to purchase handicrafts from the Duty-Free stores.
Lunch  included
Dinner not included
Private Guide Available upon request
After the City Tour – Transfer to Tocumen International Airport.
——————————————————————————–
One can extend his itinerary adding 4 days or more in a shared catamaran at The Pearl Islands.
Or, contact our Tour Operator division to offer you an extension trip throughout the country (visit also then at NativaTours.com)
Consult us for upgrade aboard an exclusive private yacht, new year's dates or a larger number of participants.
ALL INCLUDED from airport pick up to airport drop off: take advantage of extraordinary savings on an 8 days package with all receptive services included.
8 days: 8 days "Sail & Visit" package